Introduction
Jenkins is an open source Continuous Integration tool. Originally started as Hudson in 2004 but due to a dispute in 2011 they forked and continued under the name, Jenkins. It can be used to build software, deploy software, or websites to various endpoints or to run unit/behaviour-driven software tests. This article will show how to install and configure Jenkins. After setting up the basics, you'll create a new job to deploy your source code that is store in Git to Server Deployment.
Installing Jenkins in Ubuntu 14.04
This is the Debian package repository of Jenkins to automate installation and upgrade. To use this repository, first add the key to your system:
wget -q -O - http://pkg.jenkins-ci.org/debian/jenkins-ci.org.key | sudo apt-key add -  

The next step, add the following entry in your /etc/apt/sources.list
deb http://pkg.jenkins-ci.org/debian binary/  

The final, update your package index and install Jenkins:
sudo apt-get update sudo apt-get install jenkins  

Configure Jenkins
Now that Jenkins have installed and running. You can go to http://yourserver.com:8080 to see. You will be welcomed by the default Jenkins screen.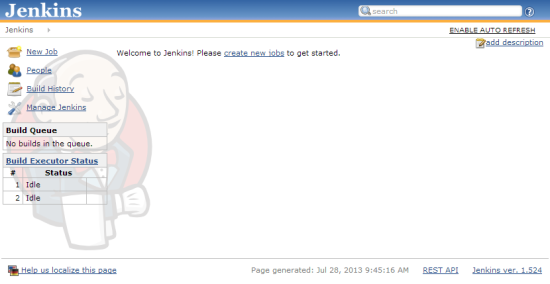 Default, After install Jenkins then everyone can access it. We will need to re-configure security of Jenkins. The first, go to Manage Jenkins in the left menu. Then, click Setup Security on the page loaded.

The next, enable the security by checking "Enable security" checkbox. The next, in "Security Realm", checking "Jenkins' own user database". If you want to other users can sign up then you can check "Allow users to sign up".

The next, go to Authorization and checking "Matrix-based security". And setup permission for Anonymous only view. You can also setup permission for other users if you want.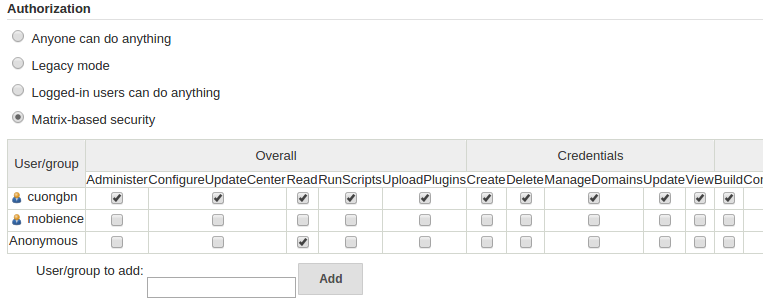 Click save button at the bottom of the page, after reload page, you will see a login form. Ignore it and go to http://yourserver:8080 again and you will see a sign up form: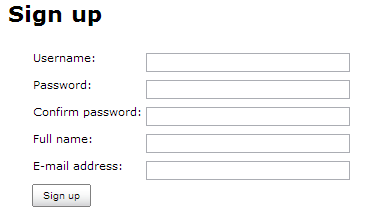 Sign up with the your username and password and you will be administrator of Jenkins install. In the next article, I will show how to create a job to deploy source code in Git server to Deployment Server.